---
News — frames
Posted by Jeffrey Gononsky on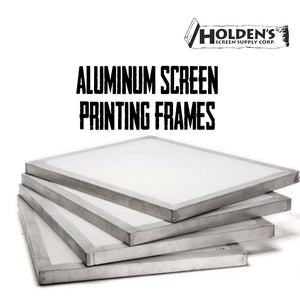 Screen printing is a process of printing graphics or images on fabrics, glass, paper, ceramics, metals, as well as wood. This process of printing is simple and done with the help of screen printing screens or mesh. They are placed onto the screen printing frame on which the stencil is applied.  The screen printing technique might seem complicated to beginners, but it is pretty easy and compatible with a wide variety of products. A lot of professionals consider screen printing to be the best option for printing two or more colors. With the help of distinct colors and inks,...
---
Posted by Jeffrey Gononsky on
Screen Printing Frames come in wood and aluminum. There are advantages and disadvantages of each, find out which you need here! Plus learn about mesh sizes, cleaning and more! Holden's Screen Supply - Shop and Save!