---
News — how to
Posted by Jeffrey Gononsky on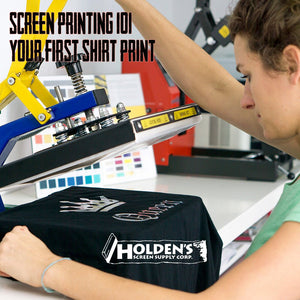 Silk screen printing comes with its own set of requirements like screen printers, screen printing kits, screen printing machine, screen printing presses etc. Using all these to create a new masterpiece makes the process highly professional and fun to do. For more on Holden's kits go here. When it comes to DTG printing, you can find a stupendous variety of printing supplies including printing inks and screens that you can use to craft something wonderful. That's how most of the professional or hobby screen printing people describe their first encounter with commercial screen printing.  You see, screen printing is an...
---
Posted by Jeffrey Gononsky on
In recent years, screen printing has seen a tremendous rise. The printing process involved in screen printing is easy and fun to experiment with.  Screen printing, often called serigraphy or silk screen printing, is basically a process of printing on a stenciled mesh screen to create a unique design. The plastisol ink spreads on the surface evenly to generate a graphic image.  You can employ the printing techniques of screen printing in distinct industries and to create a wide variety of masterpieces. It can be employed in creating bold canvases, posters, and artwork. It can also be used for tshirt...
---
Posted by Jeffrey Gononsky on
Screen printing is not a very difficult process. It can be messy, and it will be messy, but will get less messy as you become more proficient in your printing technique. For this brief explanation, we will assume that we are printing on fabric, which can be anything from t-shirts, to canvas bags.  But the principals are applicable for printing on paper, glass, or any other type of substrate. You'll need a variety of screen printing products to get your job done. How do I screen print? The first step in the process is preparing a workspace where you can print....