---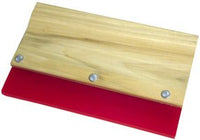 The length of your squeegee should be entered in the QUANTITY field.  
Holden's Screen Supply Corporation has squeegee blades manufactured for it by a variety of sources. We import various grades of polyurethane blades from France, Germany, and England. All Standard squeegee blades are manufactured with consistent elasticity and hardness throughout their length. The hardness of a squeegee blade is measured by a durometer reading. Generally speaking, harder squeegee blades leave a thinner ink deposit and softer squeegees leave more ink on the surface.
As a general rule, a squeegee should be at least 2 inches wider than your printable design.
For a 10" wide image, you will want to order a 12" squeegee.  To order a 12" squeegee, set the Quantity field to 12.