---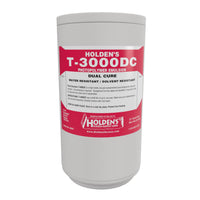 A dual cure pure photopolymer SBQ emulsion designed for solvent and water resistance.
From the product label:
WATER RESISTANT / SOLVENT RESISTANT
Photo Emulsion T-3000DC is a high solids one part presensitized pure photopolymer dual cure emulsion.  No premixing is required.  Exceptional fine line detail and durability in long runs.  It may be used with any mesh, and is reclaimable.
INSTRUCTIONS: T-3000DC has a shelf life of up to one year.  Make sure your coated screen is fully dry before exposing.  Develop screens with cold water.
KEEP IN A DARK PLACE.  Store in a cool dry place.  Protect from freezing.